Rang De Holi – 03rd & 4th Mar 2018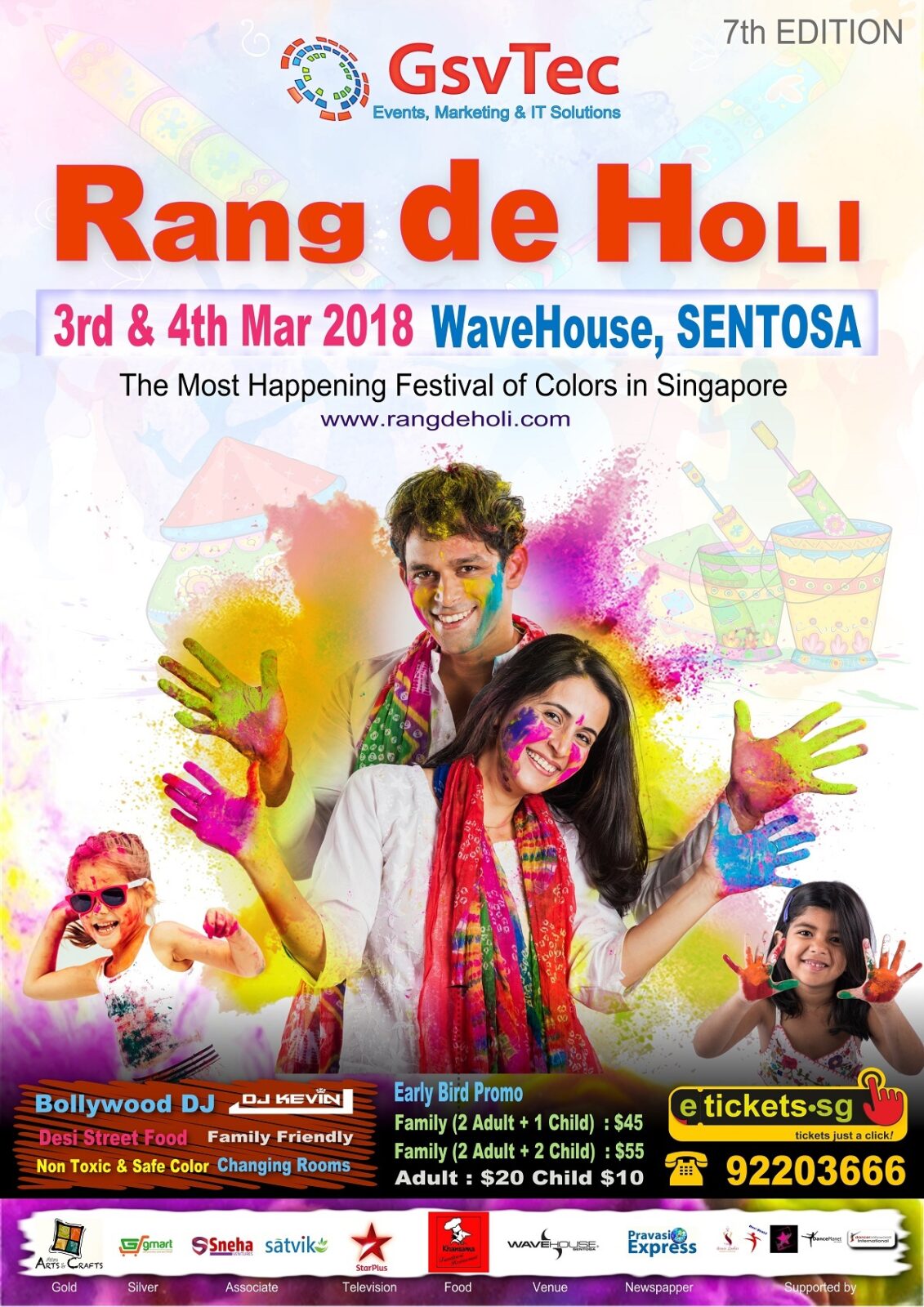 festival of colors rang de holi Rang De holi 2018 is back , a celebration of festival of colours in Singapore on 3rd & 4th Mar 2018 at Wave House Sentosa
The most celebrated Indian Festival.of Colors in Singapore Spend a day with friends and family for a culturally rich entertainment, Lots of entertaining activities like DJ music street food ,drinks and lots of networking and fun
We welcome you to join us for an Day full of fun and celebrate the festival of colours with us.
• Holi with live DJ Music
• Eco friendly Non Toxic colours
• Delicious Indian food & drinks( To be bought separately)
Please Note : Your ETICKETS will be issued instantly in your profile .Pls sign in and click mybookings
we have exclusive offers just for you EVERY one gets a pack of Colour.
Adult (12 Yrs +) = $20  [1 Adult + 1 colour ]
Child (4 -11 yrs) = $10  [1 Child + 1 colour ]
Family (2 Adult + 2 Child) = $55
Family (2 Adult + 1 Child) = $50
PLS NOTE : We have a transparent ONE Price for individuals & groups.We thank you for your support.
(Pls read all terms carefully,Ticket once bought is not refundable /Not negotiable)
A Rain or Shine event 

Only 1800 baggage service will be available for rental at venue fr first come first serve.Pls come with least Baggage.donot leave your baggage unattended at the venue.

OUTSIDE colours / FOOD & DRINKS NOT ALLOWED will not be allowed inside the venue.

DSLR Not allowed as we will have event photographers we will upload them all post event for free on facebook page & event website.The Photograph's & video's maybe used for marketing purposes.If you wish your photograph's not to be used or to be removed from the website and the facebook page .Pls let us know we will do the nedful.

Admission is subject to tickets produced at the entrance.

Children 4 to 11 years must purchase CHILD ticket for admission.(under supervision by Parents/gaurdian at all times)

Children 12 Yrs & above Need to Purchase Adult Ticket for admission.

Kids Below 4 Years are free entry accompanied by adults.Pls ensure kids are with you always

Organisers can change the seating category & price depending on the need of event & venue

Tickets Once Sold are non refundable and non negotiable.a rain or shine event.

All Participants take complete responsibility of them self and their dependants .Organisers do not take responsibility for any claims for any incident caused directly or indirectly during the event.

All care has been taken to play holi with safe & non toxic colours,known to suit all skin conditions .we still insist you to a skin test before you use the colours.

Organiser reserves the right to refuse admission to any person whose conduct is inaapropriate and poses a threat to security of the event.

Organiser reserves the right to change the venue, cancel or postpone the event due to unforeseen circumstances if required.

Ticket Holder voluntarily assumes all risk & danger incidental to the Event whether occurring prior to, during or subsequent to the actual Event, including any death, personal injury, loss, damage or liability. Organizer does not take responsibility for any claims.

Organisers are not responsible for any kind of direct or indirect claims on account of the event .As a event participant you undertake any such risk of any unforeseen incident that may happen during the event. You are responsible for your family and yourself.

Expected to be a Full house event,Entry Queue can be 20-30 mins,Limited Lockers, Pls be light n easy.